In collaboration with the energy company E.ON, we have set up a fast charger in the parking lot at BorderShop in Puttgarden and Rostock.
The charger has three outlets and can charge two cars at the same time. It takes 20-30 min. to charge a newer car's battery up to 80% - depending on the size of the battery.
You can use the fast charger for free.
How you use the fast charger
Touch the display. Then you'll see this screen: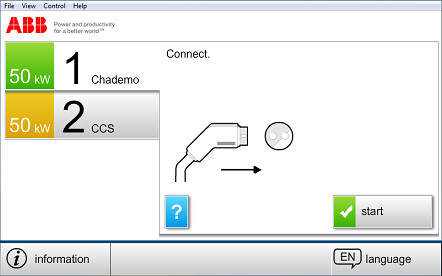 Follow the instructions on the display.
Facts about E.ON's fast charger
Has three outlets: CCS, Mennekes type II and CHAdeMO
Has a capacity of 43 kW AC and 50 kW DC (depending on car type)
Can charge two cars at the same time (one AC and one DC)
It takes 20-30 min. to charge the battery up to 80% (depending on battery size)
All electricity in E.ON's public charging network comes from renewable energy sources