From 3 July 2023, you will only need a copy of your booking confirmation for pre-booked busses.
Instead of needing to fill out the bus voucher form, all you need to do is confirm:
Your bus registration number (this is not shown on your booking)
Number of passengers on the bus incl. driver and guide (this may be different from your booking)
Length of the bus incl. any trailer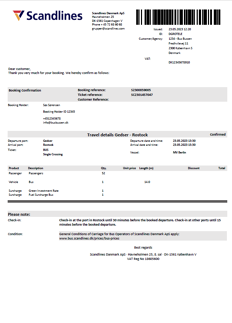 Remember to check your ticket before leaving check-in:
It is generally the driver's responsibility to check the ticket before leaving check-in. The ticket implies acceptance that the information provided at check-in is correct.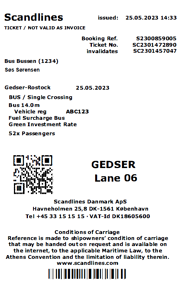 We recommend that you, as the bus company/travel organiser, keep and file your ticket.
The above change to use only booking confirmations instead of bus voucher forms only applies to busses with pre-bookings.
If you arrive at check-in without a pre-booking, you still need to bring and hand over a check-in form which you can print here or is available at check-in.
Check-in form (click on the picture)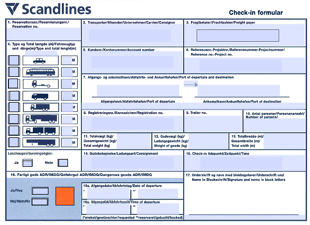 Contact 
If you do not already have a bus agreement with Scandlines, please feel free to contact us
Booking and Information:
Service Center for continental customers:
Phone: +49 (0) 381 - 66 61 94 40
Email: gruppen@scandlines.com
Service Center for scandinavian customers:
Phone: +45 72 68 60 68 
Email: grupper@scandlines.com